A SMART BUY FOR CONSUMERS, AN EASY SELL FOR DEALERS
ABOUT SAILUN TIRE
When it comes to tires, the Sailun brand has continued to push the envelope of true value and affordable real-world performance for today's drivers. We engineer, design, manufacture and support a full lineup of impressive winter, all-season, off-road and ultra high-performance tires in a wide range of popular sizes for countless cars, crossovers, pickup trucks and SUVs, plus a wide range of commercial vehicle applications. Here at Sailun Tire, we believe in offering premium quality products, backed by industry leading tread life warranties to deliver the best value and performance. The goal is to continue making great tires that exceed expectations in quality at a surprisingly affordable price, representing a smart choice for consumers and an easy sell for retailers. The amazing growth of Sailun Tire has come in large part to an in-depth understanding the demands of consumers, our vertically integrated company structure and our strong commitment to adhere to our three core values of Quality, Trust and Support.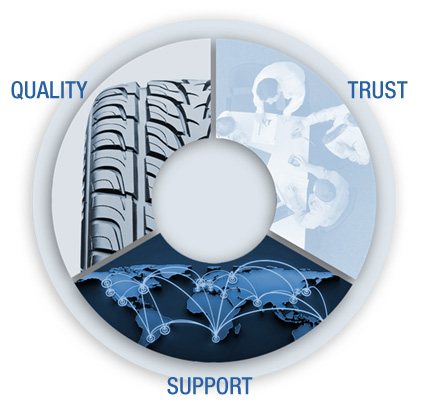 DISCOVER THE SAILUN DIFFERENCE
As a leading global tire manufacture and top provider of quality products in the value tire segment, the Sailun mission is to deliver the best customer experience in the tire industry
QUALITY is paramount in every function and every level. It is born in every one of our products and also lives within the passion of the people who work here.
TRUST is earned through our strong commitment to our great products and valued customers, with comparative tire testing, automotive journalist reviews and accredited test lab results
SUPPORT is a crucial part of our interaction with every customer, as we believe in our products and back them with industry leading warranties and customer service.